Here are photos of the reinstallation of the bathroom. The original had been gutted prior to our purchase of the house. Fortunately, the previous owner had never gotten around to throwing away the seafoam green fixtures, so back in they went.
So, for our first big project on the house, we took out the original sheet linoleum floor, as it was fairly damaged and pretty darn ugly. (It was solid black with homemade sponge applications of pink, green and white.) Tough decision and one of our few destructions of original fabric. So off it came, along with the tongue and groove fir, in preparation for a period-appropriate hexagon tile floor.
Click on a photo to get a larger image. Hover pointer to get a description of the picture. Photos are in chronological order from top to bottom, taken between November 2003 and February 2004: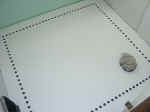 For the remainder of the bathroom saga, click here.
---
Modified: 08/19/2015