Here are photos of the basement slab paint job that we worked on for a year from September 2005 thru September 2006. We found we had moisture wicking up through the slab to the extent that water droplets were forming on the concrete. We did a bit of web research and turned to Zinsser's WaterTite product to seal the slab. It claims to hold out water up to 32 psi from either a concrete wall or slab, something I could find in no other paintable product.

(Click on a photo to get a larger image. Hover pointer to get a description of the picture. Photos are in chronological order from top to bottom.)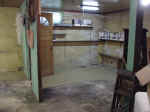 In September 2005, I scraped off the remaining vinyl tile and mastic, scrubbed with Jasco TSP, etched with Behr's Concrete Etcher, and then rinsed it all off with tap water. After a day of drying, I applied Zinsser's WaterTite, let it dry for two days, and then applied a second coat of WaterTite. We found the WaterTite to be very low odor, even less than latex paint, and relatively inexpensive at $23/gallon.
I applied the WaterTite to an area approximately 14' x 10' and let it set for a year to test if it would really hold out the water. It performed very well through a rainy Oregon winter. No water came through where it was WaterTite'd. Around the edge of the 14' x 10' area, efflorescence crystals formed where moisture wicking up through the concrete made it through the unpainted area and deposited salts but couldn't make it through the WaterTite.
So in September 2006, I followed the same steps as before and laid down two coats of WaterTite. After letting it "cure" for two weeks (WaterTite contains cement), I applied a coat of Miller's Floor & Porch enamel in gray gloss, and then two days later, applied a second coat. We will now see how it performs.
The WaterTite failed in late 2006 at one small location in the middle of the room where I had not removed the mastic on the concrete well enough for the WaterTite to adhere. I scraped the spot down to concrete, reapplied WaterTite (two coats) and the floor paint. Repair seems to be holding.
Still performing perfectly in November 2009. By 2015, there are several small places where the water has pushed its way through the WaterTite and paint. All the failures are in the second area where I did not thoroughly remove the old mastic. Lesson: WaterTite needs bare concrete and not mastic film.
---
Modified: 08/19/2015